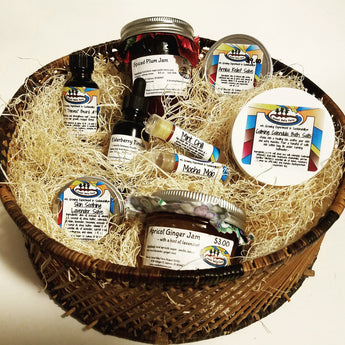 Herbal Goodies Gift Basket
Regular price $33.00 Sale
Sit back, relax, and put up your feet. We know you'll enjoy this gift basket treat! This basket is loaded with Sweet Belly Farm's herbal healing salves, lip balms, tinctures, jams, and bath salts. The gift basket is packed in a stylish basket on a fluffy bed of sustainably harvested aspen fiber. Click on each item in the basket to view individual descriptions of the items. You may customize your basket in any way, requesting specific products, or adding items. Simply send us an email or add to the notes at checkout and we can swap out products, or add extra items. 
Basket contains: 1 jam, 1 bath salt, 2 salves, 2 lip balms, 1 specialty item such as elderberry syrup, tincture, or massage oil.  *please note that we may substitute other products due to seasonal availability.
Request specific items to be included in your basket by filling out the "order notes" section on the checkout page as you place your order. We will make adjustments and get back to you promptly!
Email: cameron@sweetbellyfarm.com