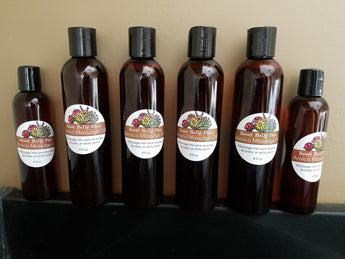 Arnica Massage Oil
This massage oil is a light blend of oils infused with powerful pain-relieving and soothing arnica, comfrey, lavender, and spearmint.  Arnica has long been renown for it's ability to soothe tired and aching muscles, and to ease the pain from bruises and strains.  Comfrey was called "bone-knit" by old european herbalists, and lavender and spearmint help soothe and revive.*  The carrier oils are chosen carefully to provide maximum healing while maintaining a light, spreadable feel.  Unscented except for the natural smell of the infused herbs.
Ingredients: Sunflower oil, coconut oil, almond oil, jojoba oil, arnica (Arnica cordifolia), comfrey (Symphytum x uplandicum), lavender (Lavendula angustifolia), spearmint (mentha spicata), vitamin E oil
Precautions: Do not use on broken skin. Do not ingest, and keep away from children. Do not use while breastfeeding, and consult a doctor for use during pregnancy. Contains almond oil. Do not use if you are allergic to any of the ingredients. 
*For educational purposes only. This information has not been evaluated by the Food and Drug Administration. This information is not intended to diagnose, treat, cure, or prevent any disease.