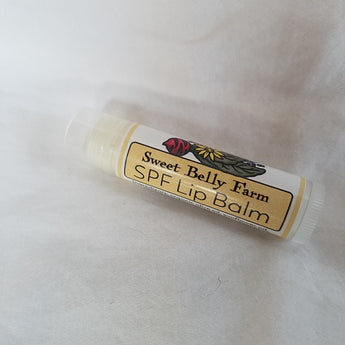 SPF Lip Balm
Protect your lips from the sun while moisturizing and healing with calendula and lavender infused oils. Contains mineral non-nano zinc oxide at 15% for maximum protection without harmful chemicals.*  Use sparingly, rub in well, and do not give to children as they may ingest the product. If accidental ingestion of more than a small amount occurs, consult a doctor. 
Ingredients: Olive and sunflower oil infused with calendula (Calendula officinalis) and lavender (Lavendula angustifolia), coconut oil, shea butter, local beeswax, 15% non-nano zinc oxide, carrot seed oil, vitamin E, essential oils of lavender, frankincense, and lemongrass.
For educational purposes only. This information has not been evaluated by the Food and Drug Administration. This information is not intended to diagnose, treat, cure, or prevent any disease.